Must visited country during holidays that's in the list? Japan! Among the countries I want to explore which are France, Korea, Australia, USA, UK and Japan, this cherry blossom country ranked first. Why? Obviously because I grew up with Japanese cartoons and comics or known as anime and manga. Vacation in Japan will surely be a very pleasant experience and not forgotten. Especially it will be more exciting in winter months, as there is no snow in Indonesia. I can imagine what I would do if I got the opportunity for a vacation in Japan while it's snowing.
Negara yang masuk dalam 'list' yang wajib dikunjungi saat liburan? Jepang! Dari banyak negara yang ingin saya jelajahi di antaranya Perancis, Korea, Australia, Amerika Serikat, Inggris dan Jepang, negara bunga sakura ini menempati peringkat pertama. Alasannya? Tentunya karena saya dibesarkan bersama kartun dan komik Jepang yang dikenal juga dengan nama anime dan manga. Liburan ke Jepang pasti akan menjadi suatu pengalaman yang sangat menyenangkan dan tidak terlupakan. Terutama jika berangkat pada bulan-bulan winter seperti saat ini pasti akan lebih seru lagi, karena di Indonesia tidak ada salju. Saya dapat membayangkan apa saja yang akan saya lakukan jika kesempatan untuk berlibur di Jepang saat bersalju tiba.
One place to visit is the onsen or traditional Japanese hot spring. Feel the cool hot bath while enjoying a snowy evening in the outdoor onsen, just sit back and relax in the indoor onsen, or why not try both to get different moods.
Tempat yang wajib dikunjungi yaitu onsen atau pemandian air panas khas Jepang. Saya ingin merasakan sejuknya berendam air panas sambil menikmati suasana senja yang bersalju di onsen
outdoor
. Sekedar me
rileks
kan diri dan berbincang-bincang di onsen
indoor
juga bisa jadi plihan
.
Atau coba saja keduanya untuk merasakan mood yang berbeda.
Shirahone (Outdoor) Onsen
Hirayunomori (Indoor) Onsen
Feeling refreshed, I'll usually be hungry . Eating a meal in winter will enhance the luxury and awesomeness. Imagine, tasting the chewy noodles while sipping hot savory light broth of shio ramen can keep me warm.
Setelah badan segar, biasanya perut jadi lapar. Menyantap hidangan di musim salju akan semakin menambah kemantapan dan keistimewaannya. Bayangkan, merasakan kenyalnya mie sambil menyeruput kuah panas yang light dan gurih dari shio ramen dapat menghangatkan badan.
Hakodate Ramen dengan Kuah Shio
We can also find Oden, which often enjoyed during the winter and is easily found in convenience stores. Probably a sort of what we call 'suki' in Indonesia, hot soup with a variety of 'edible stuffs' such as boiled eggs, daikon (a type of radish), fish-cake , tofu and more. Just look at the picture below.
Ada juga Oden, makanan yang sering dinikmati saat winter dan mudah ditemukan di convenience store. Semacam 'suki' mungkin kalau di Indonesia, sup panas dengan macam-macam isian seperti telur rebus, daikon(sejenis lobak), fish –cake, tahu dan masih banyak lagi seperti gambar di bawah.
Oden
After a big meal, now's time for dessert with tea. Japan is famous for its green tea, so I'm really eager to join a tea ceremony. Aside from a formal one, enjoying a sip while eating mochi or cake in cafes should be in the list too.
Setelah makanan berat, sekarang saatnya dessert sambil minum teh. Jepang sangat terkenal dengan teh hijaunya, jadi saya ingin mencoba merasakan upacara minum teh. Di samping minum teh dalam acara formal, minum teh sambil makan mochi atau cake di café juga harus masuk hitungan.
Menikmati Matcha di Kuil Kamakura
Dessert Matcha di Morinoen Tea Shop, Tokyo
Delicacies usually leaves distinctive impressions when we go abroad. But, I also have this habit to make a personal memory with songs during a trip. I'll certainly put Japanese songs in my mp3. Recentyl I'm obsessed with utaite, especially songs from Ito Kashitarou, Rib, Kano, and there are also other artists such as Ayumi Hamasaki, Kanon Wakeshima, and Hanae. No reason to worry about running out of background musics on the road. I may not understand Japanese, but the tune is enough to tell the meaning and the singer's feeling. Sometimes I browse for the English lyrics, and they really have beautiful and touching meaning about romance even the sekai /world.
Tidak cuma makanan yang bisa meninggalkan kesan khas, saya juga punya kebiasaan untuk membuat memori personal dengan mendengarkan beberapa lagu tertentu selama perjalanan liburan. Lagu yang saya siapkan di mp3 nanti tentunya lagu Jepang. Saya sedang tergila-gila dengan utaite, terutama lagu-lagu yang dibawakan Ito Kashitarou, Rib, Kano, dan ada juga artis lain seperti Ayumi Hamasaki, Kanon Wakeshima, dan Hanae. Bisa dipastikan saya tidak akan kehabisan stok
background music
saat jalan-jalan nanti. Walaupun saya tidak mengerti bahasanya, tapi nada-nadanya sudah cukup untuk menyampaikan maksud dan perasaan si penyanyi. Kadang saya juga suka
browsing
liriknya dalam bahasa Inggris, dan arti liriknya sangat indah dan menyentuh mulai dari suasana
romance
sampai tentang
sekai
/dunia.
Momentum by Ayumi Hamasaki yang suasananya super winter
Kanon Wakeshima
Hanae, pelantun ost Kamisama Hajimemashita
While snow's here, don't miss playing snowball fight and making snowman. It may sound cliche, but with more people joining it will be really fun. Capture every moment by taking pictures and selfies. I also want to take pictures while wearing a kimono in the middle of the snow. It's so gonna be a cool material for the social media.
Mumpung ada salju, jangan lewatkan perang salju dan membuat boneka salju. Walaupun terdengar cliche, pasti menyenangkan kalau dilakukan bersama banyak orang. Abadikan tiap momen ini dengan berfoto ria atau berselfie. Saya juga ingin berfoto sambil memakai kimono musim dingin di tengah-tengah salju. Dijamin pasti fotonya keren kalau diunggah ke media sosial.
Boneka salju di Jepang, sasuga Japan!
Kimono di tengah salju~
Last but not least, step your foot on anime shops! It's not one identic stuff to do in winter, but hey we're talking about Japan here, so I guess this should be in the intinerary. You don't have to buy something, just looking around and take some pics is fun too. Certainly if I were there, I wouldn't forget getting a plush doll home, some keychains or phone straps of my favourite anime characters like Nyanko sensei from Natsume Yuujinchou, or other anime characters from Gintama.
Hal terakhir tapi tidak kalah penting, mengunjungi toko-toko anime! Mungkin tidak identik dengan musim salju, tapi karena kita berbicara tentang Jepang jadi saya rasa ini harus dimasukkan dalam itinerary. Tentunya tidak harus membeli sesuatu di sini, sekedar melihat-lihat dan mengambil beberapa foto juga cukup. Yang pasti saya tidak akan lupa membawa pulang plush doll, beberapa gantungan kunci atau gantungan hp karakter anime kesayangan saya seperti Nyanko sensei dari Natsume Yuujinchou, atau karakter dari anime Gintama.
Akihabara yang dikenal sebagai pusat berkumpulnya otaku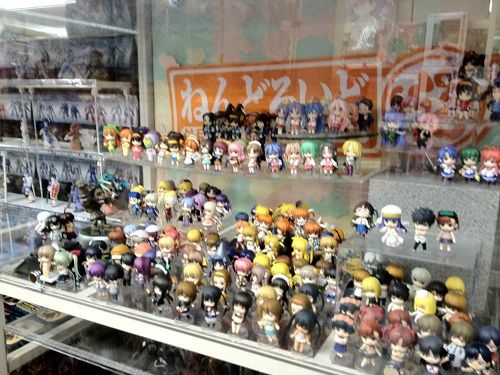 Kawaii
anime figures
Gachapon! Masukkan koin, putar, lalu ambil prize nya secara random.
Merchandise Nyanko Sensei
Looks like something's missing from the list I've written above. Yup! Don't forget to ski at Gala Yuzawa~
Hmm, kalau dilihat sekilas daftar kegiatan liburan musim dingin di Jepang yang sudah saya tulis di atas sepertinya ada yang kurang. Yup! Jangan lewatkan ski di Gala Yuzawa~
Gala Yuzawa is one of the places recommended for tourists who want to experience the excitement of winter holiday in Japan. This ski resort is only 77 minutes by shinkansen from Tokyo station. Reaching this "snowy wonderland", you don't have to change trains, because shinkansen will directly drop you at the Gala Yuzawa Ski Resort. Make Gala Yuzawa one of your destinations when going on vacation to Japan.
For more information visit:
Gala Yuzawa merupakan salah satu tempat yang direkomendasikan bagi para turis yang ingin merasakan kegembiraan liburan musim dingin di Jepang. Ski resort ini hanya berjarak 77 menit dengan shinkansen dari stasiun Tokyo. Mencapai "snowy wonderland" ini tidak perlu mengganti kereta karena dengan shinkansen bisa langsung tiba di Gala Yuzawa Ski Resort. Jadikanlah Gala Yuzawa sebagai salah satu tujuan wisata kamu apabila berlibur ke Jepang.
Untuk informasi lebih lengkap dapat mengunjungi: